Here are our top three tips to get the most out of your Digital Menu Boards.
1. Have a Strategy
As with most things in life, having a strategy will ensure you get the best outcome. Putting together a detailed content strategy for your menu boards will help you understand your ongoing content requirements and allow you to properly budget the most effective promotions. This strategy is different for every business, and needs to be tailored to your menu items, your customers and your opening hours.
Using digital signage allows you to automatically change content based on time of day, day of week, and schedule around holidays and special events. Using your screens to display an image of your menu all day every day means you are potentially missing upsell and value-add opportunities.
It is important to understand the habits of your customers as well as the items you have on your menu in order to properly plan out what you would like to display and when. Have a large crowd on a Friday night between 4pm and 8pm and want to sell higher margin, quick-sale chicken wings? Schedule a promo with high quality images or videos between these hours. Know that coffees and warm muffins sell better on a cold morning? Schedule it to display during winter or early morning hours, and swap it to the cold drinks and ice-cream during summer or hot nights. Want more people to turn up to a special event? Start promotions months or weeks ahead to encourage bookings or attendance, and schedule the content to display on higher dwell time locations such as at your point of sale.
Decide which items are worthy of investing in high quality animated content for, to further increase the upsell potential. Remember that once you have content created you can reuse it throughout the year or at each one of your other sites, to reduce the overall investment and increase ROI.
2. Get the right content.
Ultimately you need to have content that suits your branding, image, and budget. You could get away with having a black and white list of all your menu items, but why invest in Digital Menu Boards if this is all your going to showcase. If you are investing in Digital Menu Boards, you need to also invest in how your menus look.
Most customers buy food based on how good it looks, which creates desire and cravings. Digital Menu Boards can display high resolution images and videos to sway your customers decisions.
Which of the below is more appealing?
a) Text Only
Chicken Classic Sub & Coke Zero from $10.80
b) Static Image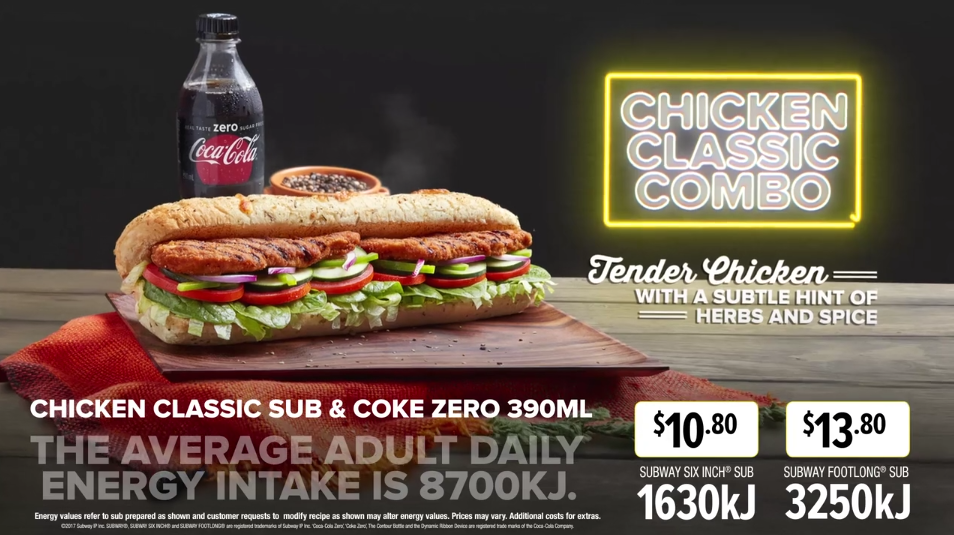 c) Video [click to play]
While all three display the product, the visual versions will influence sales. Overall design of your menus will determine how customers feel when they are in your store. Whether the design is good or bad, it will be noticed and reflected in their purchasing decisions.
Invest in high resolution images of your meals, which can be used on your website, social media, printed materials as well as digital signage. From there, you'll have the opportunity to create engaging videos and animations to further bring these images to life.
3. Get the right Content Management System (CMS).
Understand your needs when implementing a Content Management System. If you have a single screen that you just want to display promotional items, or have menus that rarely change, then you can most likely get away with a USB stick in the back of your screen.
If you would like to regularly update your menu items or pricing, display different menus during the day, or swap screens out to display promotional items based on time of day or day of the week, you'll want a decent Content Management System.
Picking the right Content Management System will save you a lot of time and hassles. Make sure it is easy to use and only has all the features you need. You can end up paying for functionality you will never use while adding additional complexity to the system if you aren't careful.
A simple and cost-effective CMS that we often recommend, depending on your needs and objectives, is Fusion Signage.
If you'd like to learn more, or looking to implement your own Digital Menu Boards, get in touch at contact@prendi.com.au