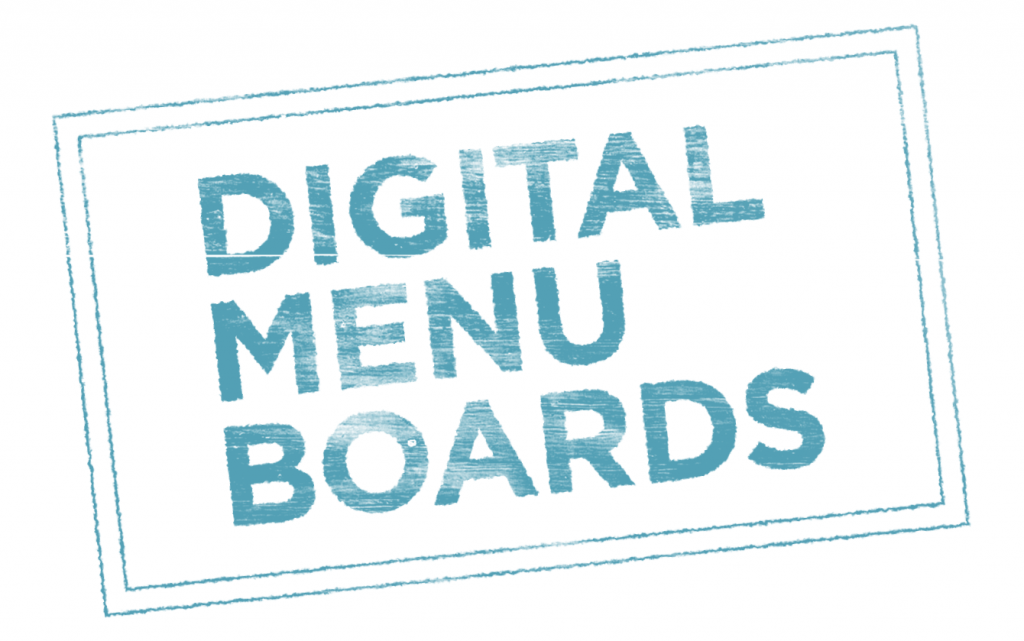 This month at Prendi we're talking all things
✦ D I G I T A L M E N U B O A R D S ✦
Digital Menu Boards have quickly become the norm in the QSR & Restaurant industry, thanks to some large-scale roll-outs by leading brands such as McDonald's and Subway.With this in mind, we will be sharing insights and advice into all aspects of Digital Menu Boards; the benefits, menu design & layouts, content & animation, suitable hardware, & content management systems.
Featuring expert learnings and inspiration, we aim to leave you feeling confident & inspired to implement Digital Menu Boards.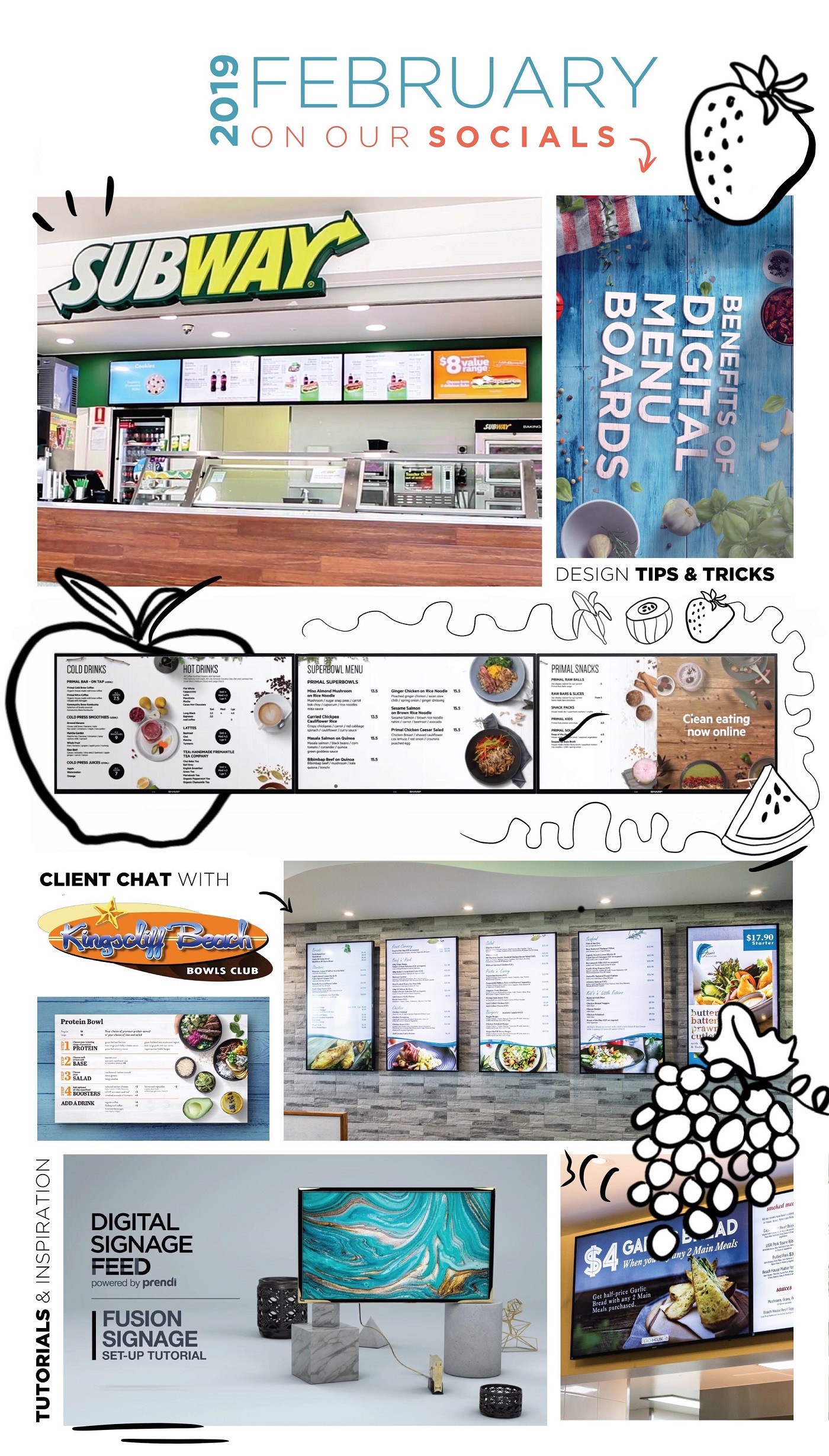 C L I E N T C H A T
We chatted with Ali from Kingscliff Beach Bowls Club in New South Wales, Australia, who have recently installed a beautiful array of 55″ portrait Digital Menu Boards. With this, plus now having star chef Matthew Kemp on board, their Club is truly setting themselves apart from the local competition.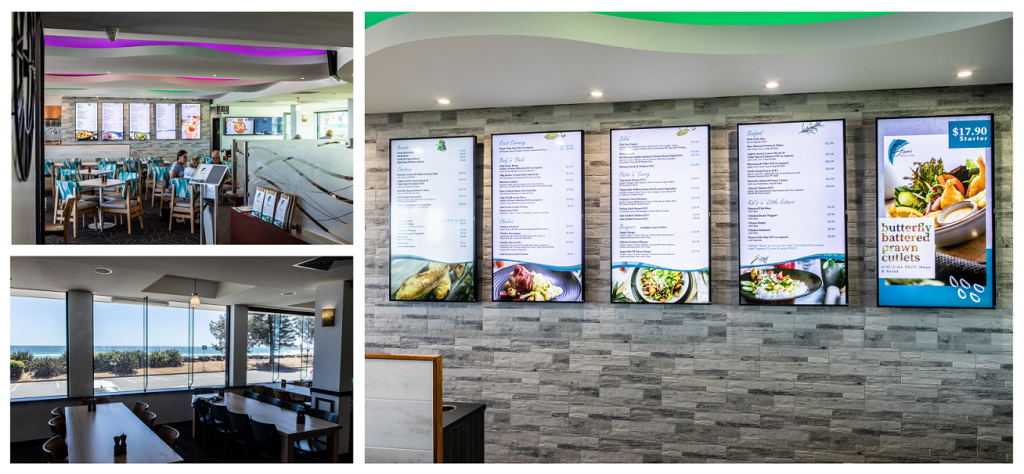 Why did you implement Digital Menu Boards?
Our bistro was undergoing a "soft renovation" including some minor structural changes, and we were wanting to incorporate a fresh and modern design with something that was engaging to the customer.
How have Digital Menu Boards changed your business?
Our Digital Menu Boards, five in total, make a massive impact when you walk into the bistro, in fact you can see them from the other end of the Club! In doing so, customers are drawn to them from all areas of the Club. The digital nature of the menu boards allows us to change content, use high impact visuals and "suggestive sell" to our customers. Whilst our text is static, our imagery is animated which engages the customer and offers a point of difference from other Clubs in the area.

How did you go about designing your Digital Menu Board content?
We held a photoshoot with Prendi so we could capture our most popular dishes and incorporate them into the design of our menu boards.
How often are you updating your Digital Menu Board content?
At this stage our menu content, across four of the five boards, has not required any changes however, this is about to change. Our fifth screen, which we use for promotional menu items and "suggestive sell" dishes, however, is changed on a weekly basis. We have a series of high impact visuals advertising menu items, desserts and weekly specials on a loop to entice customers… as the old saying goes, you eat with your eyes!
What do you think is one of the biggest misconceptions around Digital Menu Boards?
actually think there might be two misconceptions that could deter users: 1) Cost; and 2) User Management. After the initial costs in purchasing the screens and setting up the menu, the systems are actually quite cost-effective. With traditional boards, if you are wanting to make changes to your menu or even adjust pricing you need to order a brand new menu board, however, with Digital Menu Boards, changes can be made in an instant and with no cost incurred. In relation to user management, the Content Management Software provided by Prendi, Fusion Signage, is user friendly and can be used remotely allowing for changes to be made off-premise.
One tip for similar businesses looking to implement Digital Menu Boards?
Definitely invest in a photoshoot, don't underestimate the power and impact of good images.
See a video on Kingscliff Beach Bowls Club here ➜

D I G I T A L  S I G N A G E  F E E D
This month we've put together a preview of Fusion Signage – the easiest & most affordable Content Management System (CMS) on the market. This CMS is perfect for uploading, scheduling and overall managing of content on Digital Menu Boards! Check it out.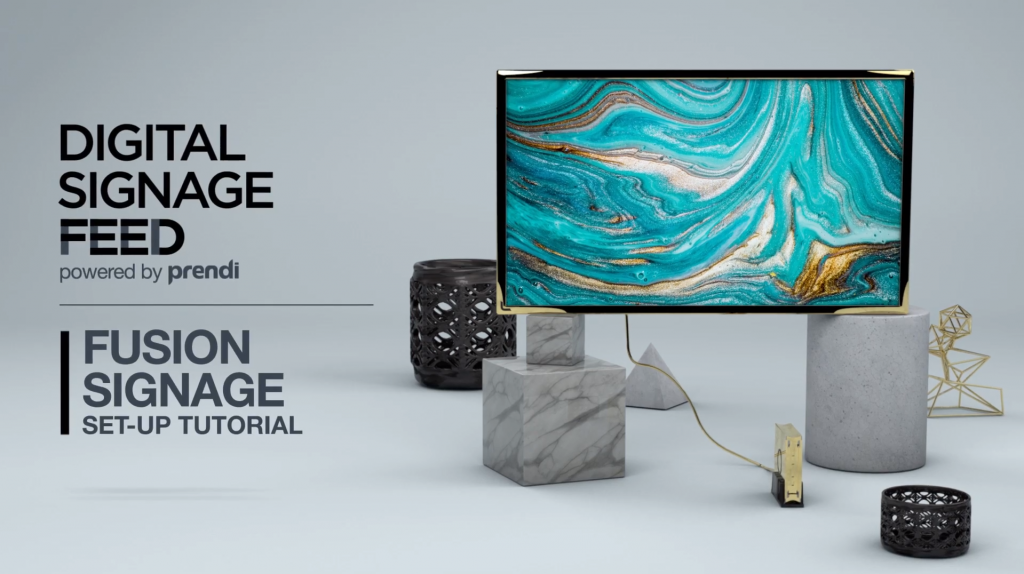 C O N T E N T C U R A T E D
Nat, our Creative Director, has some insight to share on his favourite Digital Menu Board project of late.
Favourite Digital Menu Board project?
Probably when we designed and animated Subway's Digital Menu Boards.
Explain a little bit about it.
We got to work with Subway Head Office to plan out how to turn their static menus into animated digital panels. We also created lots of animations that could play on screens around the menus to promote other items. There were different layouts, depending on how much space the stores had, along with differences between Australia and New Zealand stores.
We also created a web portal so stores could put in custom pricing and it would automatically update on the screens. This was cool, but took a bit of effort to get it working seamlessly. Designing animated menus for digital panels is always fun as it's really a new medium, and you're always experimenting to give the customer the best experience.
Enjoyed it?
It was fun to be able to design something and then go down to my local Subway and see my work in the real world.

E A S Y R E A D S
How to get the most out of your Digital Menu Boards.
If you or your client is looking for Digital Menu Boards, keep these three key tips in mind; expert advice to help take your investment to the next level.

T E C H T R E N D S
What's trending?
Digital Menu Board Packages by Prendi.
We have put together these packages in order to provide the best all-in-one solution in the most cost-effective way. The packages take the complexity out of finding, researching and sourcing each component yourself. Plus, they provide comfort that the solution will work based on years of industry experience and hundreds of deployments by our team here at Prendi.
Why do clients like it?
These packages make business owners look like digital signage rockstars. With smart, modern and reliable digital signage, business owners can concentrate on running their business without the stresses of whether their digital signage will work. Better yet, they don't have to think about putting together all the different components. Our Packages bring together everything required to have digital signage up and running without a second thought.
What businesses is it suitable for?
Our Digital Menu Board Packages are built for the Hospitality and QSR industry – anywhere that has menu boards. Alternatively, our Digital Signage Packages (single screen, multi-screen and video walls) are available for anyone with a message to share.
What's included?
– Commercial Grade screens with built-in Android media player and wall mounts
– Setup and configuration, shipping and installation
– 3-year cloud-based Content Management System
– $500 content package including animations, video and templated options
– First 3 months of PrendiCare Essentials support
Can I sell it / Where do I get it?
Yes & get in touch.
Phone James on 0403 461 607
or email our team at contact@prendi.com.au

O F F I C E D O G B L O G
Meet sisters & best pals, Bonnie and Amber.
After an unfortunate start to their lives, these two have now found their forever home with James & Emily at Prendi. So, naturally, they come into the office each day. We'll keep you updated on their office adventures in these monthly newsletters. You're welcome.