Big Bird Interactive Experience
We brought to life an ancient big bird, showcased on LED panels spanning 4 meters tall and 2.5 meters wide to present the bird in it's actual size. The experience uses a Microsoft Kinect to track visitors movements as they interact with the bird, and essentially become the bird. We also created a suite of animated idle content, featuring the big bird walking on and off screen while it waits for visitors to stand in front it. This interactive experience was a custom build using Unity.
Fun Fact: The Dromornis murrayi evolved into the world's largest bird, weighing in at a massive 650kg and standing 3m tall.
Fossil Augmented Reality Experience
We created an Augmented Reality experience that allows visitors to go up to an existing fossil and bring it to life. Upon tapping an iPad screen, the bones of the ancient creature fly up from the ground to form a standing skeleton which then rears up on it's back legs, giving visitors a sense of scale and the magnificence of the creature. This Augmented Reality experience was a custom build using Unity.
Virtual Dig Site Touchscreen Experience
A virtual dig site showcased on touchscreen displays, allows visitors to dig through sand to discover fossils. When a fossil is revealed, information pops up to provide the fossil name and a few facts. This interactive experience was a custom-build using Unity and custom shaders.
Interactive Skulls Touchscreen Experience
This interactive touchscreen experience features five real 3D scanned skulls, which visitors are able to rotate, zoom and view via the touchscreen. Information about the skull, as well as a family tree linking the ancient skulls to current existing animals, allows visitors to explore to learn more. We developed this touchscreen experience using the Intuiface platform.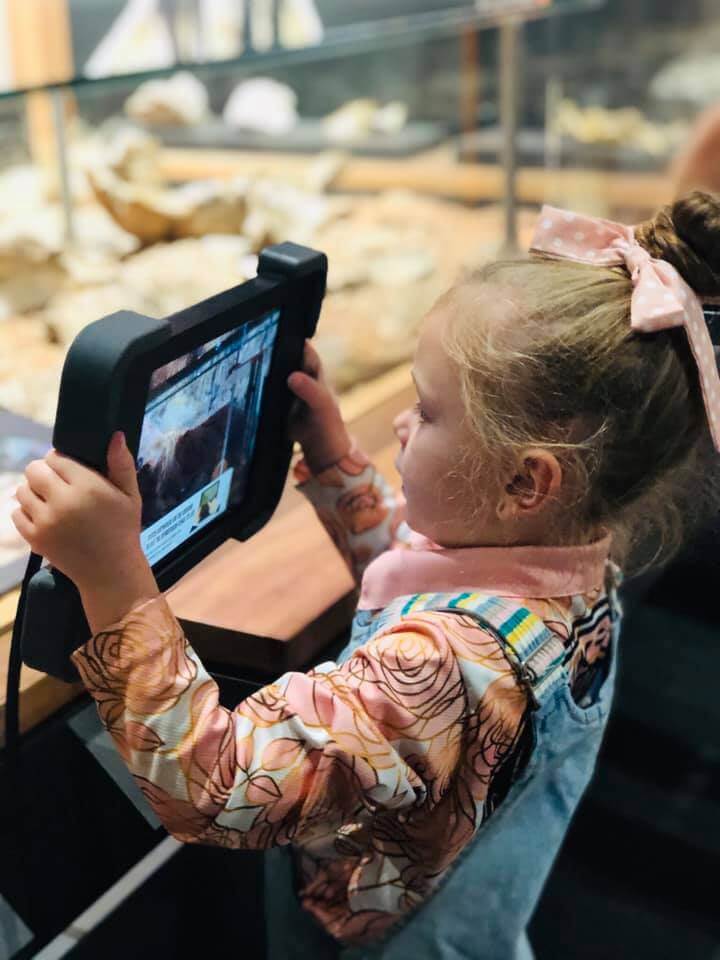 The exhibit was designed and built by our amazing partner: Xzibit